Off-Site Shredding in Philadelphia, PA
Off site, shredding is a secure and affordable service. Your paperwork is picked up at your office and then delivered to a shredding plant in Philadelphia for destruction. This process is compliant with all existing federal and Pennsylvania privacy laws including FACTA. Off-site shredding is a popular choice for shredding jobs because it is generally cheaper to destroy large volumes at a facility than at your location.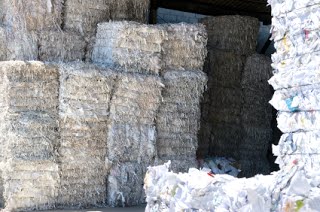 Trained security professionals partnering with Philadelphia Paper Shredding will transport your files in a locked truck, protecting it until it arrives at a secure shredding plant. Upon the delivery of the materials for shredding, the bins are inventoried. They are then lined up to start the shredding process. The material is dumped directly into the industrial shredder, processing about 20,000 lbs an hour. A certificate of destruction is created with the certified weight, verifying that the papers were shredded.
Once materials are shredded, they are compacted and shipped directly to a paper mill where the material is turned into pulp and recycled into new paper.
How Off-Site Shredding Works in Philadelphia
You collect the documents that need to be shredded. You don't need to sort any paper clips or binder clips.
The paper is collected and set in locked bins.
The bins are safely delivered to the shredding plant.
The paper is shredded, baled, and recycled into new paper.
A Certificate of Destruction is issued.
Get Free, No Hassle Quotes on Off-Site Shredding Services in Philadelphia, PA Today!
Philadelphia Paper Shredding offers secure off-site shredding service options that make any shredding job quick and easy. Our contractors will pick up your papers and send you a certificate of destruction so you know your shredding job was done right. To set up a time to have your paperwork picked up, simply give us a call at (856) 334-1735, or fill out the form on the left for free quotes.